Home and History
BIOGRAPHY DICK BAKKER
Dick Bakker was born in Blaricum in 1947. After his secondary education and his studies at the Hilversum Conservatory, he became employed in 1965 at the Soundpush studios in Blaricum as recording engineer, composer, arranger and producer. In the following period he was responsible for recording a large number of national and international hit records such as "Little Green Bag" and "Una Paloma Blanca" by George Baker Selection; "Venus" by Shocking Blue and "Ma Belle Amie" by the Tee Set. But he also recorded a lot of big television shows such as the Rudi Carell show; the Mounties show; Hadimassa and de Carte Blanche shows with Adčle Bloemendaal, Jasperina de Jong, Leen Jongewaard, Willem Nijholt, Wim Sonneveld and Toon Hermans for whom he also produced music arrangements and conducted.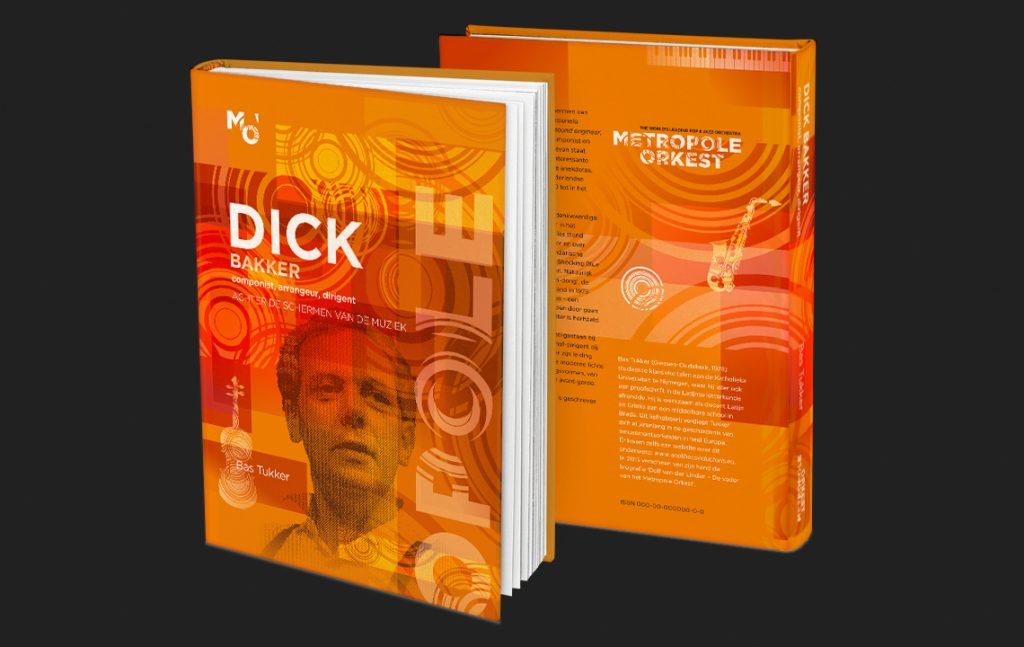 The book 'Behind the scenes of the music' of Dick Bakker is now available.
In 1972
Dick Bakker became the manager of a new studio to be built for Dureco record company. This studio developed into one of the leading studios of Europe. In addition to Dutch music groups and bands such as The Dolly Dots, Teach Inn, George Baker and Shocking Blue, the entire CBS artists line-up managed by John Vis, recorded in the Dureco studio. And there were many other successful productions, among others with Rogier van Otterloo, Ruud Jacobs, Thijs van Leer, Rita Reys, Pim Jacobs, Gerard Cox, Chris Hinze, Louis van Dijk, Jules de Corte and Frits Lambrechts.

In 1974
Dick Bakker released his first instrumental album "Dick Bakker dirigeert" which was awarded with a gold record. This success was followed by a number of other albums like "Soft Melodies", "The Beauty Of Nature" and "Eternal Cycle". Together with Mantovani and Dick Bakker's productions with Botticelli, these albums were released in the "Silence and Romance" series of which a total of more than one million copies were sold.

In 1975
Dick Bakker composed, arranged and conducted the winning song of the Eurovision Song Contest "Dinge Dong" for Teach Inn, with worldwide sales of more than six million sound carriers. In 1977, he wrote the tribute "I Remember Elvis Presley" with Eddy Ouwens for Danny Mirror. More than 2 million copies of this international hit were distributed.

In 1977
Dick Bakker started his music production company "Topesa B.V." and focussed on composing, arranging and conducting film music, audiovisuals, company presentations, commercials and album projects. In London he established an orchestra with musicians from The London Philharmonic, St. Martin in The Fields and top musicians from the freelance sector. With this orchestra "The London Studio Symphony Orchestra" he recorded his music for the next fifteen years. In that period he realised more than one thousand productions for most multinationals such as Philips, KLM, Heineken, Shell and major international cigarette brands like Stuyvesant, Pall Mall, Marlboro, Caballero, Dunhill, etc.
He composed, arranged, conducted and produced a large number of albums that were awarded gold and platinum, such as for the "De Gevleugelde Vrienden " with Pieter van Vollenhoven and Louis van Dijk, with Chris Hinze, Thijs van Leer, Jan Vayne, Han de Vries, Toots Thielemans and many others.

In 1987
Dick received an Edison Award for "Musica di Gloria" with Louis van Dijk, he was presented the Louis Davids Award for a music arrangement for Dutch singer, actor and lyricist Wim Hogenkamp, and was nominated two times for the Cleo-award for his music for Philips International. Together with Freddy Heineken, Dick Bakker wrote a number of compositions, which they recorded with Canadian singer Kenny Colman. For this international production they cooperated with the American arranger and composer Johnny Mandel as well as with harmonica soloist Toots Thielemans.

In 1991
Dick Bakker became artistic leader of the Dutch Metropole Orkest where he was appointed Chief Conductor in 1992. The Metropole Orkest developed into one of the world's leading orchestras. As Chief Conductor he received the "Gouden Harp" from the Dutch music promotion foundation Conamus and with the orchestra he was awarded the "Ere Zilveren Reissmicrofoon" from the Nipkow foundation for promotion of Dutch radio and television programmes, as well as the "Gouden Notenkraker" of the Dutch Musicians and Artists Union (Ntb). He conducted the Metropole Orkest for numerous radio and television shows with national & international artists and musicians. As chief conductor and artistic director of The Metropole Orchestra, Dick Bakker performed with the following international artists:
Oleta Adams, Madeline Bell, Andrea Bocelli, Cristina Branco, Patrick Bruel, Chris de Burgh, Terry Bozzio, Joe Cocker, George Dalaras, Celine Dion, George Duke, Brian Eno, Art Garfunkel, Gloria Gaynor, Herbie Hancock, Shirley Horn, Cleo Laine, Alan Parsons, Laura Pausini, Dulce Pontes, Cliff Richard, Demis Rousos, The Swingle Singers, The Surpremes, Sister Sledge, Mikis Theodorakis, Toots Thielemans, Bonny Tyler, Gino Vanelli, Steve Vai.
Dick Bakker also was the conductor for the Oscar-winning motion picture "Antonia's line" and numerous Dutch box-office hits such as "The Discovery of Heaven", "Kruimeltje", "Ja zuster, nee zuster", "Pietje Bell" and "Villa des Roses".
The Dutch Broadcasting Foundation (NOS) asked Dick Bakker as their permanent conductor for the Eurovision Song Contest, until the use of an orchestra was banned from the event in the year 2000.

From 2005
Dick Bakker has been active in the music industry for 40 years. In that period he wrote more than 3000 compositions & arrangements and worked as recording engineer, composer, arranger, conductor and producer on hundreds of productions with a distribution of more than 50 million sound and image carriers. After 14 years, on november 6th 2005, Dick Bakker layed down his position of Chiefconductor and musicdirector of The Metropole Orchestra.
The intention was that Dick Bakker would stay on with the Metropole Orchestra as its principal guest conductor. However, chronic back complaints forced him to resign this post prematurely. Conducting an orchestra for any length of time appeared to be too difficult.
The last concert he conducted with the Metropole Orchestra was the "Gala van het Nederlandse Lied" on 19 March 2006 with the vocalist Marco Borsato as the star performer. When at the interval the audience at the Beatrix theatre in Utrecht were about to leave their seats, the burgomaster of Blaricum, Mrs Helma Ton, came on the stage. In a pithy speech, Mrs Ton appointed him, on behalf of Queen Beatrix, a Companion of the Order of Orange Nassau. Dick Bakker was awarded this high honour "for his exceptional services to light music in general, and to the Metropole Orchestra in particular – the orchestra that he has led to unprecedented heights''. Those were the words of burgomaster Helma Ton.
Dick Bakker will remain with the M.O. as an adviser. He also intends to continue composing and arranging music.
His last large project was the musical "Wat zien ik", which he composed together with his son Tom. The premičre of this musical was on 11 October 2006 at the theatre "Het Park" in Hoorn.

In 2007
The Paul Acket Award, for the category "Special Appreciation" was handed out by Toots Thielemans to Dick Bakker, who deserved this prize because of his work in the music business for over 40 years and for being the chief conductor of The Metropole Orchestra until 2005.

2007-2009
Except his activities with the programme committee of "Singer Laren" and "Laren Jazz" Dick Bakker is regularly involved as artistic producer for productions with The Metropole Orchestra such as the "Gala van het Nederlandse Lied" for Radio 2, the "Concert of the 50th" for Radio 5 and Max Television, the "Harpengala" and "Magic Music Factory" for Tros TV and the "Uitmarkt" for Avro TV. As conductor he was involved with recordings of Steve Vai who has been nominated for Grammy Awards in 2007 and 2008.

In 2010
Dick Bakker was involved as artistic producer for The Metropole Orchestra with the Harpen Gala with a.o. Armin van Buuren, van Velzen, Caro Emerald, Giovanca and Wende Snijders. Also The Magic Music Factory with Karin Bloemen and The Max Proms with Rene Froger and Engelbert Humperdinck.  Futhermore Dick Bakker was conductor and Orchestra producer of the album of "Los Angeles The Voices" with Gordon. This album became number "1" and "Gold" within 14 days after the release. Finally after 2 month it became "Platinum".

2011
Just like in 2010 Dick Bakker was involved as artistic producer for The Metropole Orchestra with the Harpen Gala this time with a.o. Nick & Simon, Kane, Frans Duijts, Van Velzen and Alain Clarck. Also The Magic Music Factory with Mike and Thomas and The Max Proms with Rob de Nijs, LA the Voices, Tom Parker & The New London Choral and Gloria Gaynor.
Futhermore Dick Bakker was conductor and Orchestra producer of the album of Los Angeles The Voices "Because we believe" This album became number "1" and "Gold".

2012
In 2012 Dick Bakker was again involved as artistic producer for The Metropole Orchestra with The Rolling Stones tribute for Radio 2 with major Dutch artists like Ben Saunders and Charly Luske. 
The Max Proms with The Pointer Sisters, Los Angeles The Voices and Tom Parker and The Magic Music Factory with the percussion group Percossa. Also he was invited to cooperate with the program Classic Album for VPRO television about Shocking Blue.

2013-2016
In this period Dick Bakker was involved as artistic producer for the Metropole Orchestra with the following artists:
The Three Degrees, Edsilia Rombley, Tavares, Chico and the Gypsies, Abba the show, Tony Hadley, Barry White Experience, Kool and the Gang, Percossa, Ruth Jacott, The Trammps, Carel Kraayenhof, Philippe Elan and Oleta Adams.
As conductor and/or producer for the album and TV show of Gordon, and conductor of the movie "Holland, natuur in de Delta" and the Kings-song with The Metropole Orchestra. Furthermore Dick Bakker was conductor for the strings of Brussels Philharmonic for the album of Pearl Jozefzoon.

2017
In this year the release of a book about Dick Bakker "Achter de schermen van de muziek"
Furthermore he was involved as artistic producer for the Metropole Orchestra with the Concert at Lingehaven in Gorinchem, Dudok Concert in Hilversum and Max Proms in Utrecht.  Artists: Martijn Lutmer, Gert Wantenaar, Lo van Gorp Choir, Boris, Angela Groothuizen, 3 J's, Freku, Julia Zahra, Frank Boeijen, Jermaine Jackson, New London Choral, Xander de Buisonje and Glennis Graces.

2018
Dick Bakker was twice involved as conductor for the Cinema movie "De Dirigent" by Maria Peters and Dave Schram. Music composed by Bob Zimmerman and Quinten Schram. For the Metropole Orchestra Dick produced the Max Proms shows with The Weather Girls, London Beat, Hot Chocolate, New London Choral, Anje and Romy Monteiro. 

2019-2020
In 2019 Dick Bakker became ambassador for The Rosa Spier Foundation to create Radio and Tv productions for the new Concertroom and theatre.
Also he arranged and conducted for Alain Clarck the song "Echt Nederlander" performed by Dwight Dissels and with strings of the Metropole Orchestra.